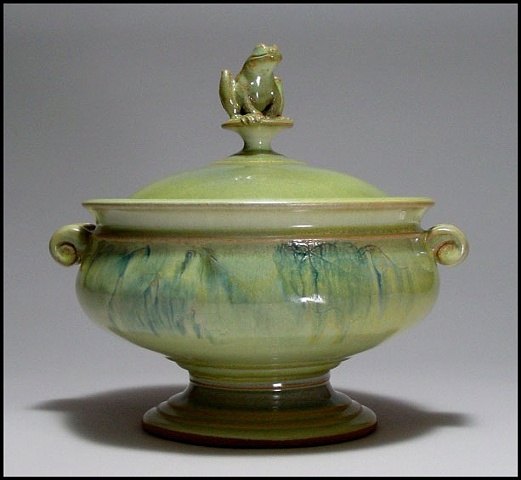 Rankokus Pottery
by Deborah Williams
Artist Statement
Being trained as a sculptor, but immersed in the traditions of functional pottery, my work is on the cusp of these two worlds. My pottery is often embellished with relief and sculptural elements inspired by the garden and life forms at the water's edge. The color variations are achieved by the melting and pooling of molten glaze on the textured surface. The greens, tans and blues layered in glassy translucency are reminiscent of looking into a shallow pool seeing simultaneously the faint images of flora and fauna below the surface and the reflection of the sky above.
While I am mindful of how a ceramic piece enhances its environment, my clay vessels need to be pleasing to the body as well as the eye. It is only through use that the work is complete; artist, object, and user all collaborators in a creative daily ritual.
The communication of my passion through teaching is an integral part of my artistic process. I have been sharing my love of this medium with students of all ages for over twenty years. Each student's journey allows me to stay grounded in the basics of technique, forces me to reexamine my own aesthetics, and gives me the opportunity to celebrate the challenges and joy of their experience with clay.